DLNA/UPnP application for iPhone & iPod touch
Media Link Player, a.k.a. MLPlayer is one and only iPhone application that provides you great DLNA/UPnP experience in your home network. It supports all of the following DLNA device classes;
DLNA v1.5 M-DMP (Mobile Digital Media Player),
DLNA v1.5 DMC (Digital Media Controller), and
DLNA v1.5 M-DMS (Mobile Digital Media Server),
and also some great features including Cross-Server Search, Cross-Server Slideshow, Music Playlist and so on.
Media Player. Connect unlimited media servers and play back.
Media Link Player discovers and connect unlimited number of DLNA certified media servers and UPnP media servers. The contents disclosed by media servers can be played back on Media Link Player. (See also Supported Format.)
DLNA certified media servers bear DLNA logo mark. Some contents on UPnP media servers cannot be played back due to the serversf behavior. (See also Device Connectivity.)
Cross-Server Search. Find your contents among all of your PC & NAS.
If you have more than one media servers, gCross-Server Searchh of Media Link Player would be the best way to quickly access contents you want to play. Search result shows all relevant files on different servers. Browsing many Media Server might be stressful, but Media Link Player saves your time and effort to find your contents.
Cross-Server Slideshow, as like as digital photo frame.
Media Link Player supports picture slideshow. Not only a list of pictures in a folder, but also Cross-Server Search result can be played back as a digital photo frame. Search by any keyword, then the all relevant pictures on any media server become part of your slideshow.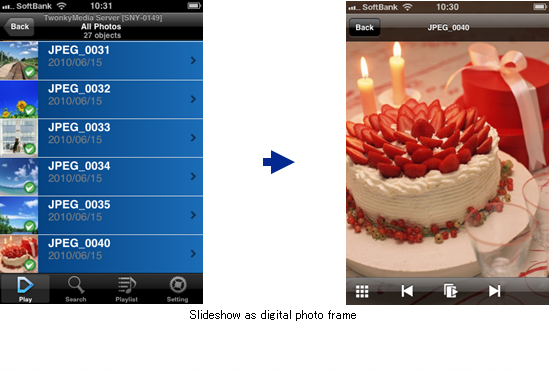 The transition effect can be selected from Fade, Reveal, Push, MoveIn, and Filp. The interval can be selected from 3, 5, 10, 20, and 30 seconds.
Media Controller. Control TV & audio receiver from your iPhone.
Media Link Player works as DMC device. All contents on media servers can be played back on not only your iPhone but also digital TV and audio receivers which support DMR (Digital Media Renderer). You can select renderer device on setting screen of Media Link Player, and control from your iPhone.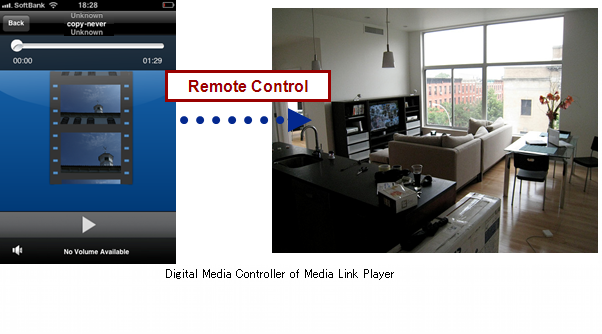 Digital Media Server. Expose Picture and Audio to DMR and DMP
Play following contents at DLNA Player(Windows7, TV, etc...).
- Synchronized contents (Audio/Image) from iTunes.(except DRM contents)
- Picture taken with iPhone/iPod touch
- Voice Memos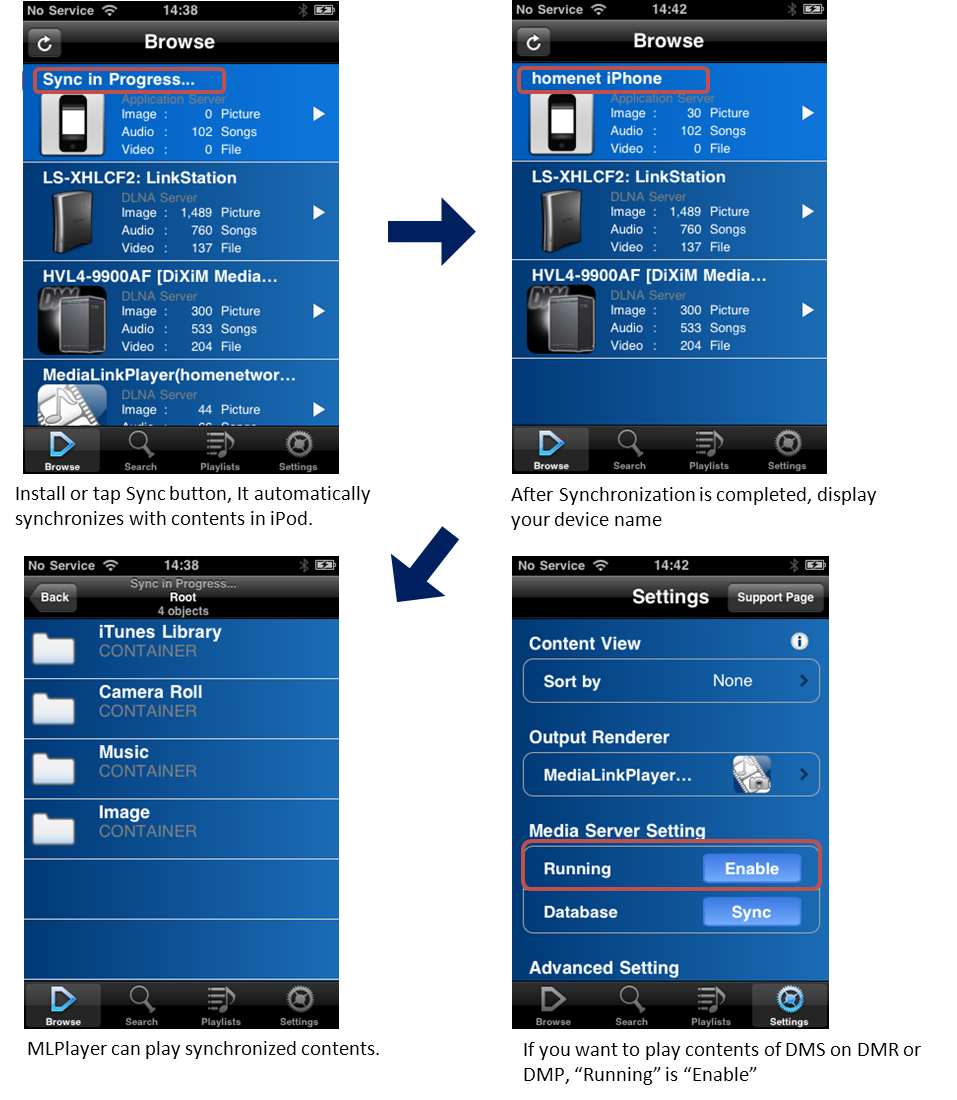 More Features
Music Playlist
You can make your original music playlists across media servers. Once make a playlist, no need to browse deep folders on Media Server every time you want to play back. Also, Media Link Player automatically generates the following smart playlists; gRecently Playh, gMost Playh, gFavoritesh.
Contents Sort
List of contents on browsing Media Server and search results can be sorted by title or created date and time. You can select on setting screen of Media Link Player or iOS application gSettingsh.
Simple UI & Stable Behavior
Media Link Player is based on simple and friendly list UI so that achieves stable behavior.
Notice
Media Link Player is compatible with iPhone/iPod touch. The resolution of iPad, 1024 * 768, has not been supported.
Our apps is available with two latest versions of iOS. (e.g. it is available for iOS8 and iOS9 if latest version is iOS9.)
Video cannot be played on the TV using Apple's docking station and media cable at this time.
Contact Us
Send us by email if you have any questions or requests for Media Link Player.
EmailFmlplayer@alpha.co.jp
Please see each linked Websites about the following information.
About Question for Media Link Player, please check FAQ.