Backbone Communication Systems
Introduction
Communications networks (backbone communications networks) are becoming an increasingly essential part of the social infrastructure. The operation of these networks requires the use of a diverse range of software systems. Given that the two main elements of such networks are transmission lines (paths) and nodes (connection points or junctions), all the various devices installed at the nodes must be controllable from external locations: this necessitates the provision of various services. The devices installed at the nodes have evolved from the old telephone switches, and they now include transmission devices, edge nodes, transit switches, base transceiver stations, and routers. These pieces of equipment need to be complemented by complex, large-scale software systems so they can be controlled remotely: such combinations of hardware and software are referred to as node systems. (>> Node Systems) Telecommunications operators need to provide their customers -- both individual consumers and corporations -- with various reliable communication services, including both voice and data transmission. For this purpose, they construct and operate the sort of network systems described in the preceding paragraph. To enhance the smooth functioning of these systems, telecommunications operators must perform a number of tasks as the following.
・Network monitoring (identifying malfunctions, monitoring performance, traffic, and so on)
・Network configuration management
・Network system control (path reliability, transmission quality)
・Application service management
・Customer account management
・Subscriber and account management
These kinds of operations, encompassing the operation and maintenance of communication networks, also require complex, large-scale software systems known as network management systems. (>> Network Management Systems) These systems are not used solely with conventional landline telephone systems or normal desktop Internet connection, but also with all types of mobile networks such as cellphone systems and PHS. (>> Mobile Network Systems) Additionally, with mobile communications, software requiring a considerable amount of memory must be installed in the handsets, too. In the case of third-generation (3G) cellphones or other mobile terminals, development of the program codes requires million-line programs, and development costs for such programs can run as high as ¥10 billion or more. Alpha Systems offers development services for the categories of software described above. Our services range from initial identification of system requirements through system test to maintenance.
Our Areas of Proven Strength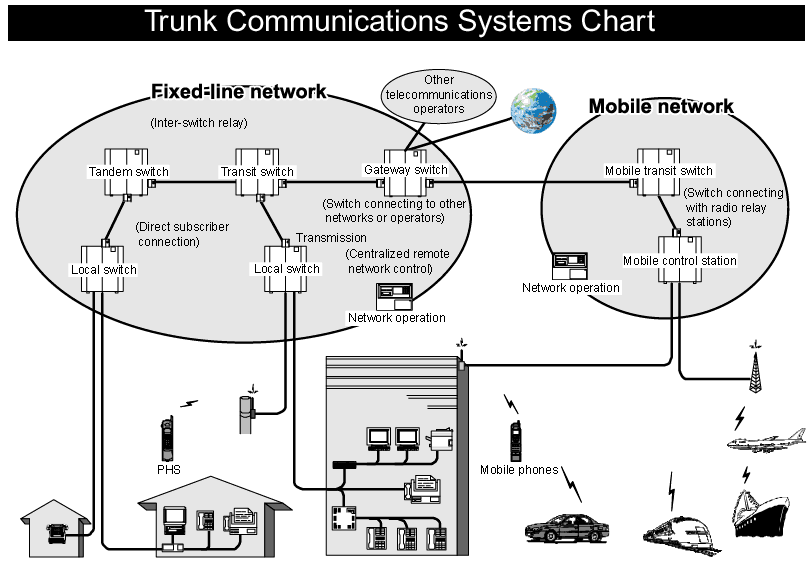 Node Systems
・Telephone Switching System
・Optical Transmission System (WDM, OADM, OXC)
・IP Network System (Carrier Grade Router, Carrier Grade Switch, SIP Server)
Mobile Network Systems
・Base Transceiver Station
・Radio Network Controller
・LTE / WiMAX Network Equipment
・Mobile Phone, Information Terminal
Network Management Systems
・Subscriber Data Management System
・Equipment Management System
Open Systems
Introduction
Because Alpha Systems is an independent system vendor, our development processes are not restricted by agreements with particular vendors, and we are able to accept orders for multi-vendor system development projects. From the beginning of its operations, the Company has focused on the development of software for telecommunications systems. The worldwide spread of the Internet now means that all systems rely on communications networks in one way or another. In these circumstances, we have engaged in the development of open systems, encompassing systems for government ministries and local authorities, systems for corporate internal use, and systems for use in Internet business.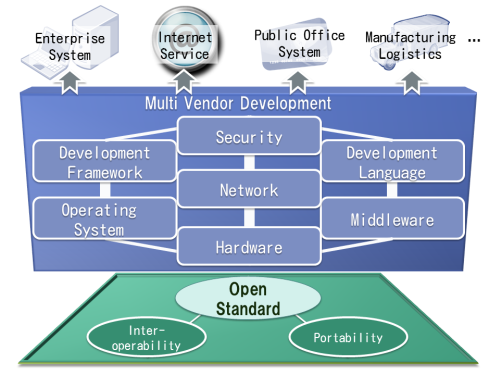 Our Areas of Proven Strength
・Portal sites for online businesses, and related work-process systems
・Online application systems and databases on eligible contractors for public works projects
・Systems for management of production and distribution
・Intranets for corporate information management
Embedded Systems
Introduction
Most of electronic devices including home appliances, office automation equipments, and industrial machines are controlled by embedded software systems. In contrast to general-purposed computer such as PC, the embedded software are designed to be optimized to perform on limited hardware resources, often with real-time computing constraints. Embedded systems control many of the common devices in use today.
Embedded system on telecommunication field is in the line of Alpha Systems that has engaged in the development of telephone switches, radio network controllers, cellphones and so on. Taking advantage of the technology know-how, Alpha Systems also offers the development service for home appliances, office automation equipments, and in-vehicle systems.
Our Areas of Proven Strength
・Printer machine (firmware, application software)
・Car-mounted audio system (head unit device controller)
・Car-mounted navigation system (display controller, microcomputer controller)
・DVD/HD Recorder (application software)
・Digital camera (firmware)
・Interface technology between UPnP and ZigBee